The Best Water Slide Rentals In Bonita Springs!

Purple Plunge (18ft)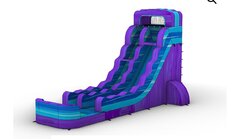 Midnight Mountain (15 ft)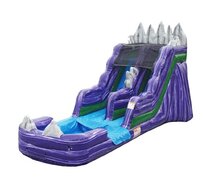 Green Splash (18ft)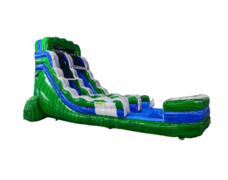 Ruby Rush Water Slide (21ft)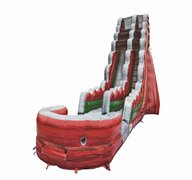 Island Drop (20ft) Double Lane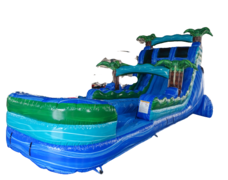 Puddle Jumper (12ft)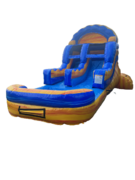 Big Kahuna Water Slide (17ft)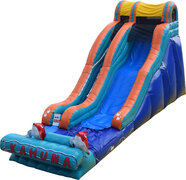 Reggae Splash 20 ft Double Water Slide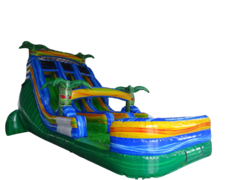 The Kraken (21 ft)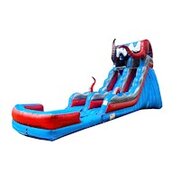 Island Vibes (20ft)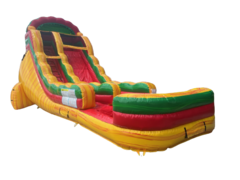 Arctic Falls Double Lane (17ft)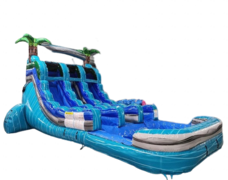 Tropical Double Water Slide (16ft)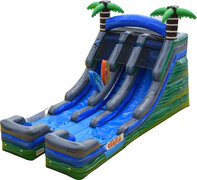 Blue Typhoon (Double 18ft)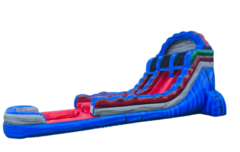 Fantasy Falls (18ft)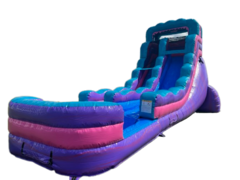 Fairytale Falls (17ft)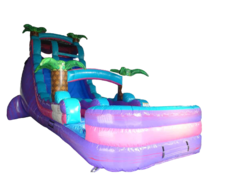 Bahama Blast Double Lane (17ft)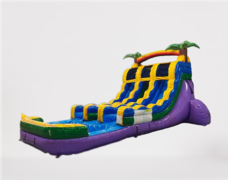 The Blue Wave Water Slide (16ft)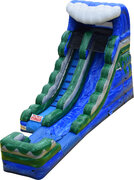 Level Up (21 Ft)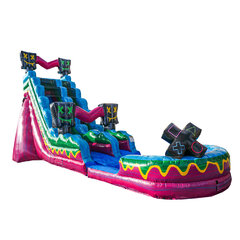 Caloosahatchee Cruiser (16ft)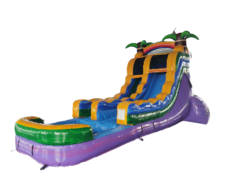 Endless Summer (21 ft)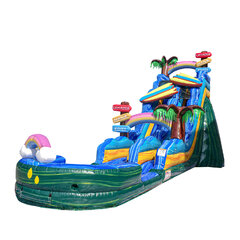 Crimson Bay (20 ft) Double Lane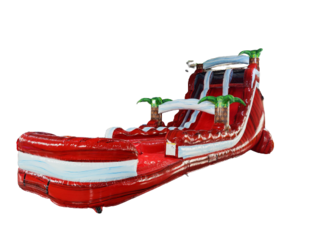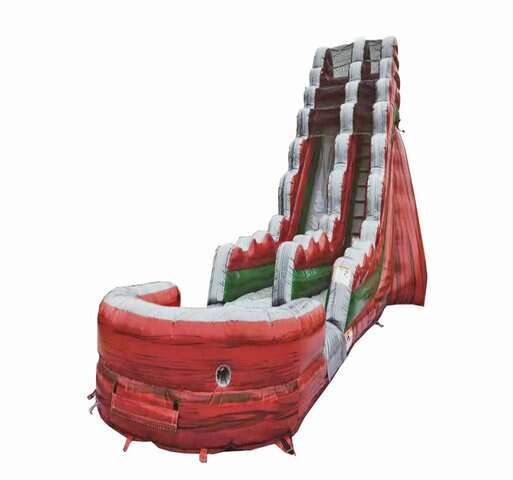 Featured Water Slide Rentals In Bonita Springs
21ft Ruby Red Water Slide Rental
The Ruby stone has captivated cultures around the world for centuries with its deep red color adorning crowns and swords of Kings and Queens. There is nothing different today, the Ruby Rush will captivate your Kings and Queens for their special day. Standing at 21ft tall, it commands your attention with its deep red sides and hints of silver and green. This single lane slide will be the centerpiece of any party, just like the Ruby has been in many Crowns. As you climb to the top of the Ruby Rush, you will notice that at the bottom awaits a pool of water that will be refreshing on a hot summer day. The stairs are covered in non-slip material and have handholds to safely climb to the enclosed top of the slide. With its oversized landing pool and bumper, it is perfect for kids six and up, plus let's be honest the adults will love it too. The Ruby Rush will be the perfect partner for your next party or any long weekend.
Book NOW!
Water Slide Rentals Are Perfect For Events In Bonita Springs
Are you in the market for party entertainment? Gator Bounce Rentals LLC is your source for event entertainment and water slide rentals in
Bonita Springs
. Water slide rentals are an excellent way to add excitement to any special event or party in Bonita Springs. Whether it's a birthday celebration, a family reunion, or a summer back yard barbecue to deliver hours of water fun for your party guests.
Water slide rentals are the ultimate centerpiece attraction at any event in Bonita Springs and will make a big impression on your guests. Just add kids and water for an awesome wet & wild summer celebration. All of our water slide rentals are manufactured from "lead-free" vinyl and are cleaned and sanitized before every rental. Browse the selections below and click on the image or "more info" link to get the additional information and to make a reservation.
Water Slide Rentals Are Even Safe For Adults!
Do you want to rent a water slide but fear your adult guests won't get to enjoy the super fun slide? We can guarantee your adult guests will have just as much for as your younger guests, and we can prove it. Check out our Ruby Rush Water Slide in action! Renting a water slide in Bonita Springs not only means hours of entertainment for the kids, but adults as well. In fact, we are pretty sure the kids will have to fight for their next turn!
Guaranteed Fun In Bonita Springs!
Your party guests in Bonita Springs deserve high-quality water slide rentals that are cleaned, sanitized, and insured, and that is what you will find at Gator Bounce Rentals LLC. We take great care of our rental equipement to ensure the longevity of all of our party rentals. That means you will receive the best water slide rental on the market!

Not only is our equipment top-notch, we have unbeatable customer service. Our Gator Bounce Rentals LLC team is committed to make your rental experience as seamless as possible. We offer easy online water slide rental reservations, and we deliver to your event on time. Simply make your online reservation, including your Bonita Springs event details, and we will take care of the rest! You can relax knowing your event entertainement is taken care of!
Do You Deliver Water Slides Near Me In Bonita Springs?
The answer is
Yes!
Gator Bounce Rentals LLC is the #1 supplier in Bonita Springs of Inflatable Party Rentals such as,
Water Slides
,
Bounce House Slide Combos
,
Bounce Houses
,
Interactive Games & Obstacle Courses
,
Tables Chairs
,
Concessions and Supplies
,
Yard Games
,
Gift Cards
, and much more! Rent your next Inflatable rental for your next event or party with us, Gator Bounce Rentals LLC!
Our Service Area
If your project site is outside our normal service area, just let us know! We do deliver even farther out, and special accommodations can usually be made to suit your project.

NOTE: Extra fees may vary depending on how far you are outside our service area.
Customers Who Rent Water Slides Also View: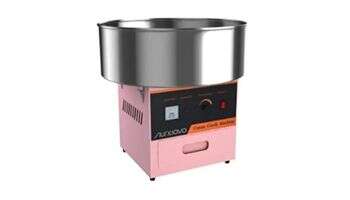 Concession Rentals
Every party needs snacks. Our concession machine rentals will feed a crowd! We have cotton candy machines, popcorn machines, and snow cone machines. Your guests will not be dissapointed!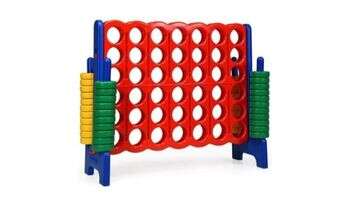 Yard Game Rentals
Yard games are the perfect add-ons to your water slide or bounce house rentals! Here at Gator Bounce Rentals, we have regular yard game rentals and GIANT yard game rentals ready for your rental reservation.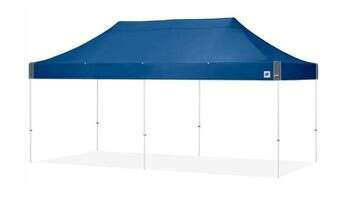 Tent Rentals
Keep your party guests comfortable under the umbrella of a party tent rental! Gator Bounce Rentals has a selection of event tent rentals for all size events. Your party guests will appreciate the reprieve from the elements!


Frequently Asked Questions About Water Slide Rentals